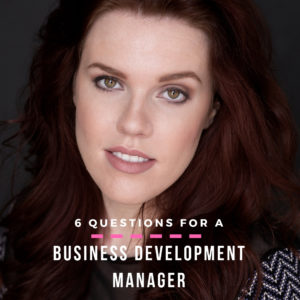 Welcome back to "6 Questions For A…"! Each week, we'll ask someone 6 career-centric questions about themselves.
This week we're chatting with Katheryn Stacey, Intern Queen's very own Business Development Manager. Katheryn currently resides in Chicago. She graduated from Columbia with a double major in Acting and Public Relations. Her time at Intern Queen began when she was attending ScholarCon where she met Lauren. From there, she became an Intern Queen ambassador along with being a campus rep for Skinfix and HP. She then became an intern for the agency and was soon hired on as a Business Development Coordinator. Katheryn is now the Business Development Manager at IQ Agency.
Tell us about the kind of tasks are in a typical day in your role.
A typical day starts out with putting together my "to-do" and "calls" lists. In my notebook, I write down all of my meetings for the day and put together any pending items I need to get accomplished. Using a notebook helps me stay organized and I can refer back to any call/internal meeting notes.
What is your favorite part of your job?
Two things: 1. My amazing coworkers. I've been here at IQ the longest and we have the perfect team. Everyone is so encouraging and helpful. We're all spread out in the U.S., but we have each other's presence every day! 2. Our wide range of clients. We have programs in all different fields, from Fashion, Beauty, Sports, Consumer Products, Beverages, etc.! It makes my job exciting!
What are some challenges you face?
Dry spells. My role is heavily sales. All day, every day, I'm constantly sending cold emails and having introduction calls with awesome brands and companies. Some months I'll hit big money numbers for the business and other months…the well can be completely dry. After two years of selling for the company, I still have periods of droughts!
Who inspires you?
My fiance, Rachel McAdams, and my boss/mentor…Lauren Berger! ?
Share some advice to someone aspiring to be a Business Development Manager!
There is no such thing as an overnight success. You have to work really hard in sales (sending out hundreds of emails and being on lots of calls). It only takes one person to greenlight a program that grows the business! And don't get discouraged when nothing you're not closing a big deal every day – it takes hard work and dedication!
What did you want to be when you grew up? How did that change over the years?
An actress! Nothing has changed over the years. I went to school for acting and I also perform at The Second City here in Chicago (all of your favorite comedians/actors trained here like Tina Fey, Amy Pohler, Steve Carrell, Stephen Colbert, Chris Farley, Gilda Radner, etc.). I want to do Film/TV work – my dream is to star on a sitcom!